The Future Of Dropshipping: Is It Still Profitable In 2023?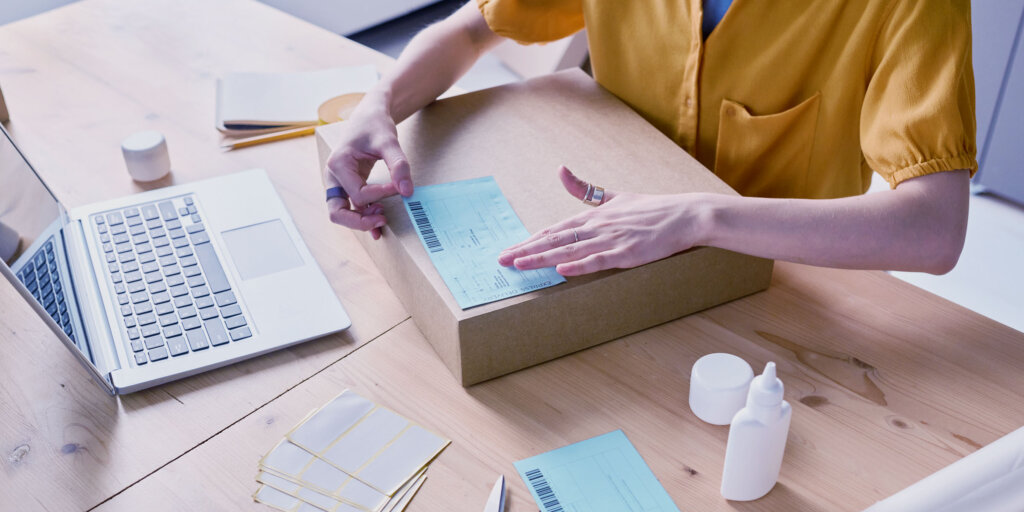 We've all been here, right? Wondering if dropshipping is still a profitable business model in 2023 and beyond. You're not the only one having doubts. Everyone who ever launched a dropshipping store asked themselves this at some point: is it still worth it to dropship?
So, is it? The short answer is yes, dropshipping remains a great way to generate income in 2023. But don't trust our word, just read on to learn why we think this is still true and also discover some tips we share on the right way to build a successful long-term business.
The dropshipping market is growing
So, dropshipping will be worth it in 2023, and many years from now on. But here's the catch. You can build a profitable business only if you start dropshipping the right way. 
How can you do that? Well, by simply dropshipping and selling high-quality products from reliable local suppliers that can ship super fast to your customers. 
Now, if you're thinking of selling products from China with 3 weeks shipping times, and no customer support, then, yes, that type of dropshipping is dead for a long time.
As said, there's no need to take our word for it, so let's look at a few statistics that paint the can back all this up.
All in all, this market data makes a compelling case that dropshipping should remain profitable now and for years to come.
What's the search interest on Google?
Now, let's also look at Google Trends data to identify search interest in dropshipping terms. Searches for generic terms like "dropshipping" have steadily climbed since 2018, and, although there have been some years when the search for dropshipping didn't grow, is clear that dropshipping search interest is now 4 times greater than 5 years ago.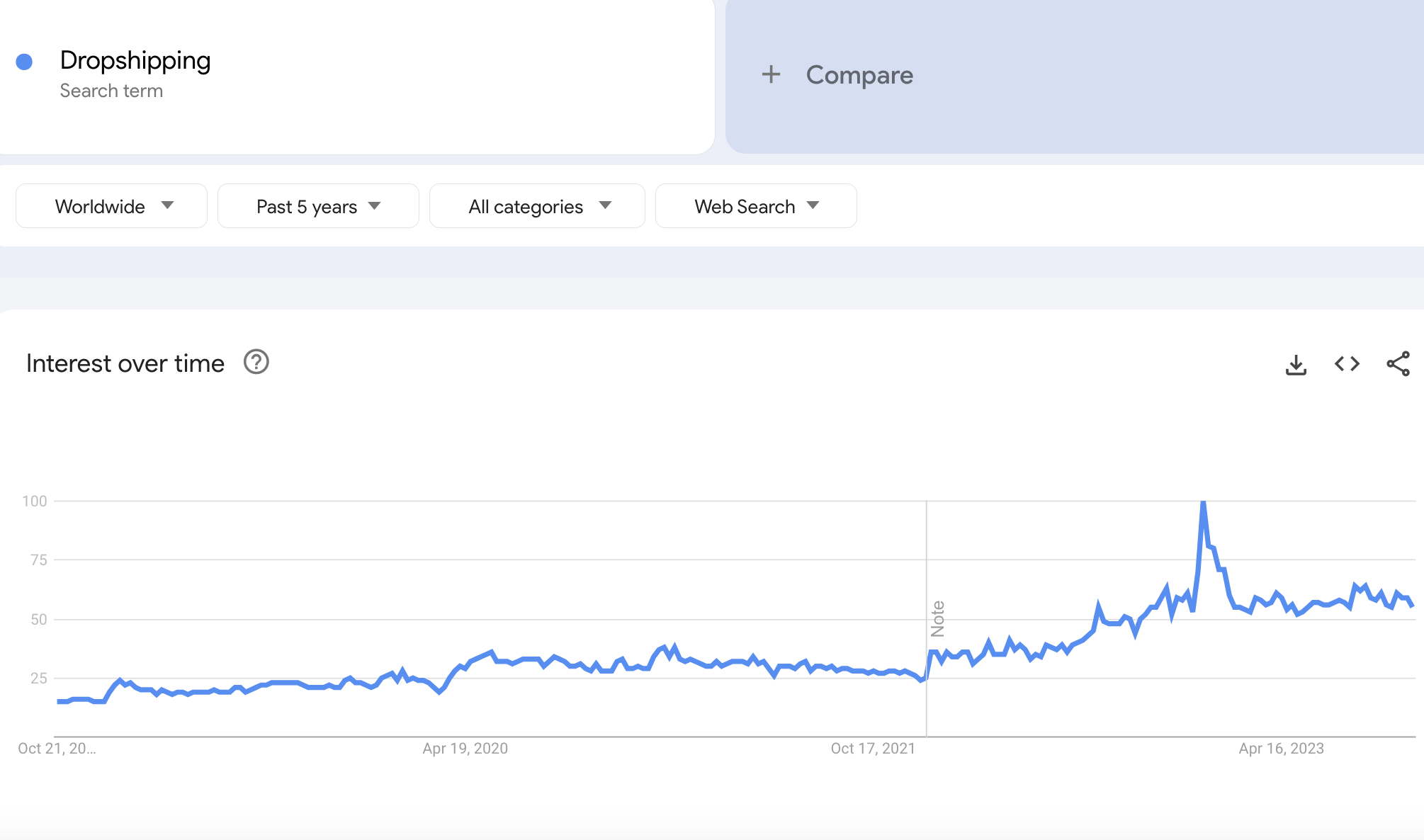 Related terms like "Shopify dropshipping"  and  "Amazon dropshipping" have followed the same upward trajectory. And, interestingly enough, "Shopify dropshipping" is gaining more interest and searches than "Amazon dropshipping" as we write this.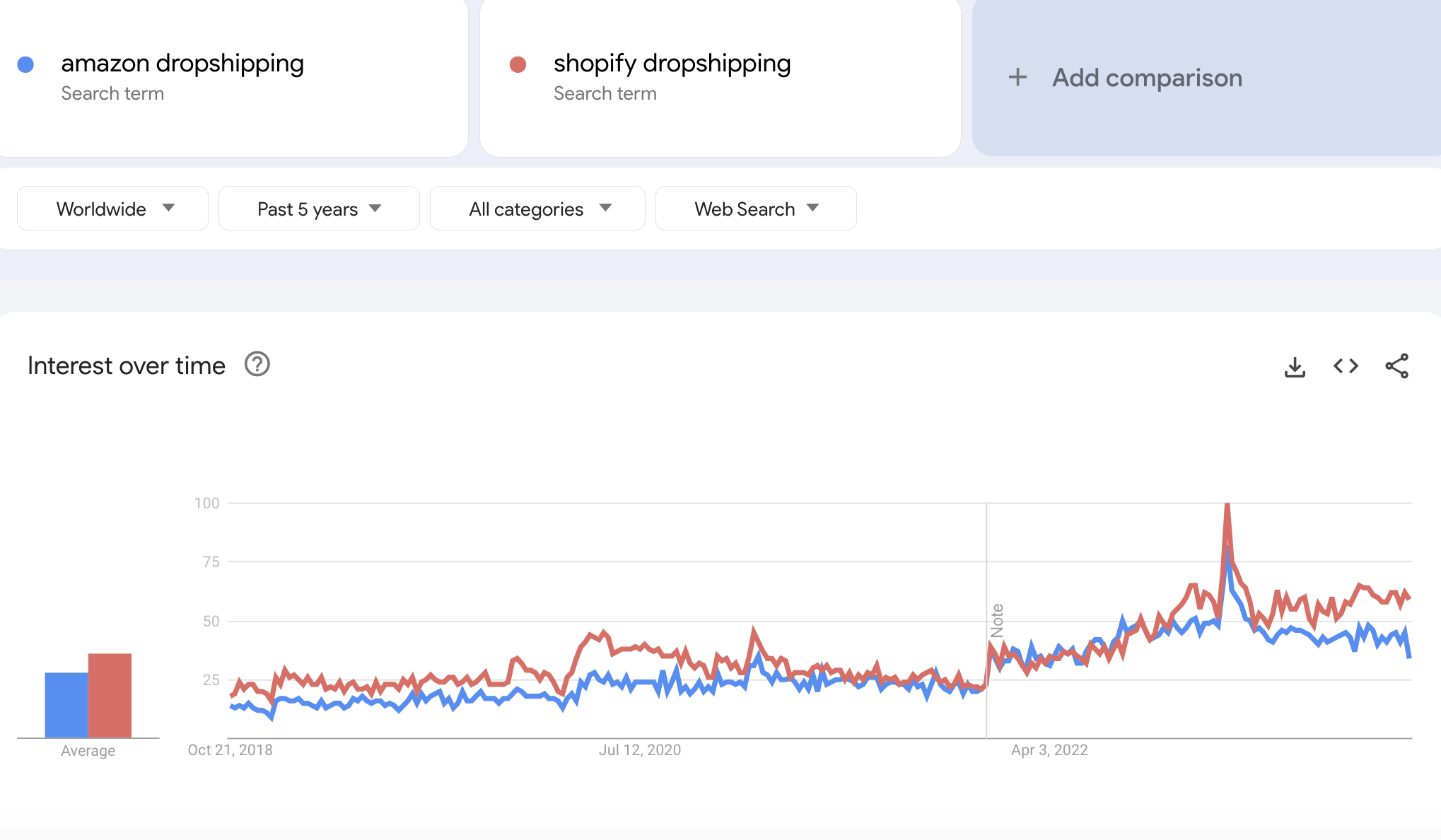 Also, we did the same search on Semrush just to show that dropshipping has a huge search volume in the US and UK. As you can see, there is a lot of interest in both countries.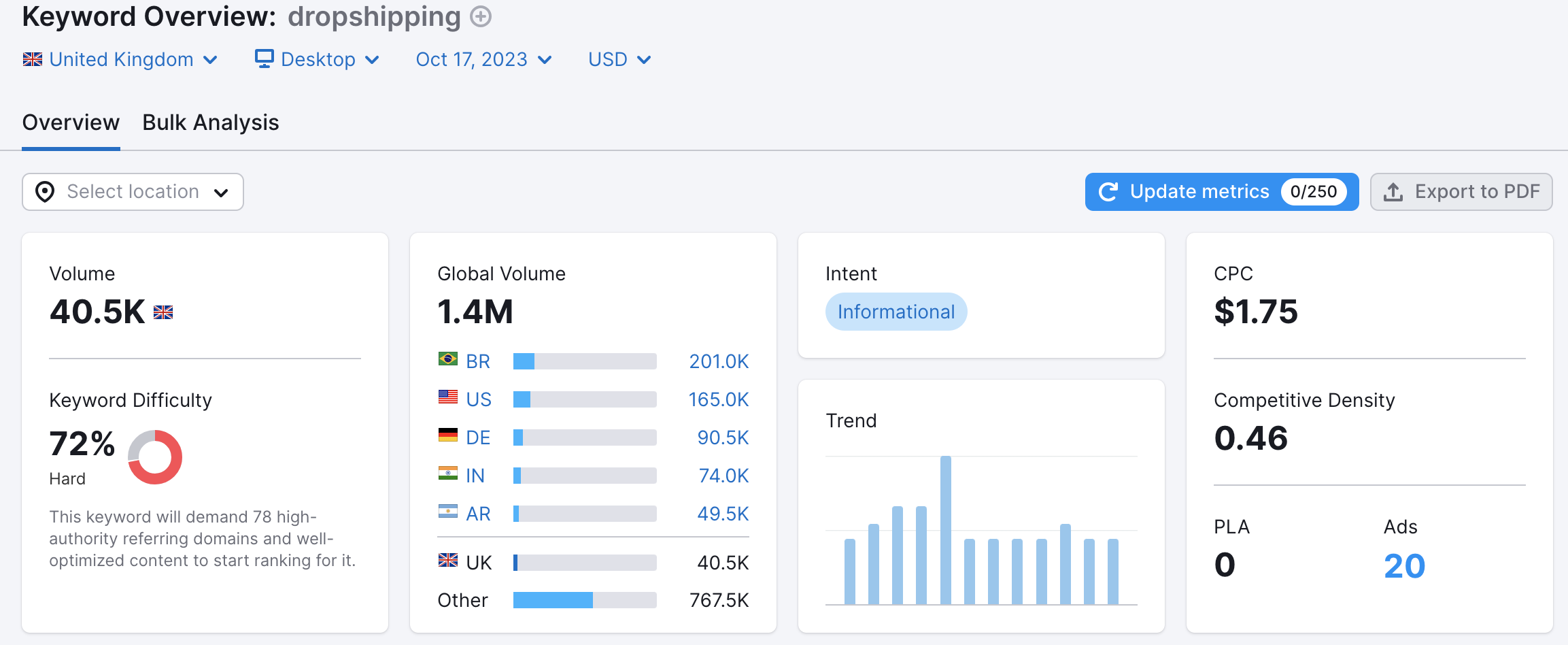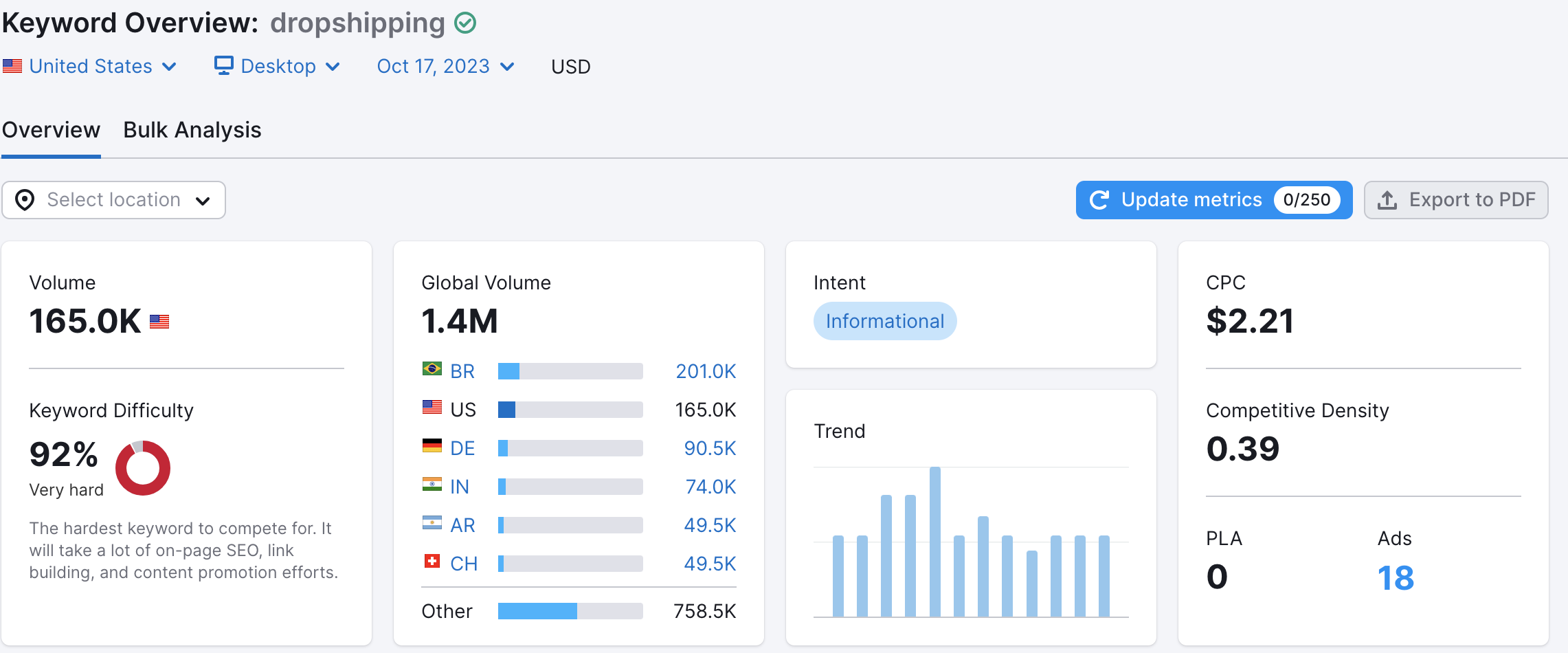 We know search interest isn't everything, but this consistent growth in searches shows the ongoing popularity of the model. There is in fact a high demand for knowledge among potential store owners and retailers.
It all comes down to these key factors
At the end of the day, building a profitable dropshipping requires focus, work ethic, and smart decision-making like any other business. 
If you want your business to be successful in 2023 and beyond, here are some key factors to keep in mind:
Identify evergreen market niches and products with sustainable demand. Keep away from oversaturated markets.

Research your target audiences and align your brand and products with their preferences.

Choose dropshipping suppliers that are located near your main audience, have affordable pricing but also high quality, quick fulfillment, and offer great support.

Did you try our dropshipping platform AppScenic? 

Optimize your store for conversions with amazing images, creative and unique content, and intuitive navigation.

Spend significant time (plus have some budget) on marketing campaigns and product testing.

Provide great customer service and support throughout the buyer's journey.
If you set some realistic expectations, have the right mindset, are persistent, don't give up if sales don't happen fast, and keep on learning from your competitors, dropshipping can absolutely be the way to gain financial independence in 2023. But make sure you first build a brand that customers love.
Looking ahead 
After writing all this and getting your hopes up, we're now going to drop the bomb: between 10% and 20% of dropshipping businesses have success during the first year. Or at least that's what experts are estimating. 
Now, the reasons for this are various, but we can tell you that among the most important ones is that many dropshippers start this business without doing any research or even learning about what's the best way to start a dropshipping business. 
More on why 80% of dropshippers fail
Yes, it's extremely easy to start such a business, anyone can build a store on platforms like Shopify and Wix. But the key is to approach dropshipping as a long-term project, have a set-in-stone plan, and listen to your customers. And remember dropshipping won't bring you any profits overnight.
So, now that you read all this, what do you think? Are you ready to tap into the world of dropshipping? Then start by checking out our complete dropshipping course to get access to a step-by-step guide on launching and scaling a successful store!